Donaldsonville, La. — Ashley Townsend of Oak Grove Primary School, Jennifer Gautreau of Lake Elementary School, and Jessica Wilson of St. Amant High School have all been named regional winners in the Shell Science Lab Regional Challenge. Sponsored by Shell Oil Company and administered by the National Science Teachers Association (NSTA), the competition encourages K-12 science teachers to share how they have found ways to create meaningful lab experiences in their classroom while utilizing limited resources for a chance to win a school science lab makeover support package. Townsend, Gautreau and Wilson are of 39 regional winners named, from which three grand prize winners will be selected.
"On behalf of Shell, I offer my congratulations to all three of our winning Ascension Parish teachers and schools," said Rhoman Hardy, General Manager of the Shell Chemicals Geismar manufacturing site. "We're delighted to be able to help these innovative teachers implement their proposals and enhance the STEM learning experience for their students."
To enter the challenge, K-12 science teachers located in select school districts near Shell assets were asked to describe their school's current laboratory resources, explain why laboratory upgrade support is needed, and describe their approach to science education instruction utilizing their school's current lab facilities. A panel of science educators then reviewed and selected the top entries. The regional winners each received a school science lab makeover support package valued at $10,000 (for the elementary and middle levels) and $15,000 (for the high school level).
"These science teachers are model educators for teachers across the country," said Dr. David Evans, NSTA Executive Director. "We are thrilled to honor all of them for their creativity, resourcefulness, and commitment to their students and quality science teaching."
OAK GROVE PRIMARY

Ashley Townsend's science teaching philosophy is that what teachers teach is not as important as what students learn. She says that young students learn by connecting observations and shared experiences with prior knowledge and assumptions, and developing a correct understanding of how the world works occurs over time. Her goal is to set up learning experiences that create opportunities for students to reassess and update their ideas about science based on observational data and objective trials, just like real scientists do. According to Townsend, lab upgrade support at Oak Grove Primary is needed to address the wide abilities of students on her campus. She is trying to lead her school in a shift from teacher-directed science learning to experience-based learning, so she needs to ensure that resources are available. This lab upgrade will immensely impact her teaching by providing resources to create learning experiences that support teachers in the classroom.
LAKE ELEMENTARY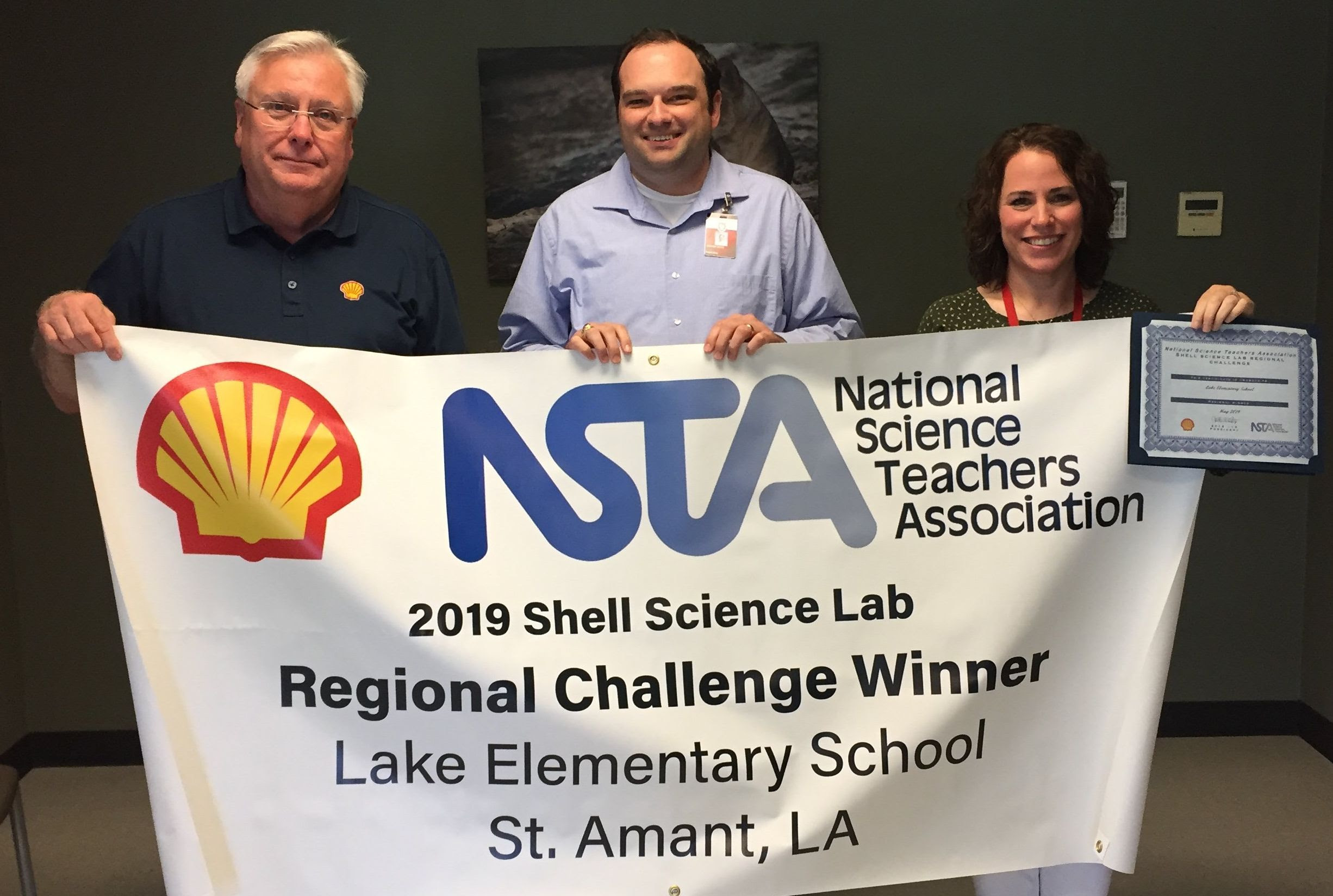 Jennifer Gautreau's lessons allow students to explore their curiosity and collaborate with peers to construct deep understandings of science content by doing hands-on activities at Lake Elementary. Students are engaged in inquiry activities that cause them to question misconceptions, build on prior knowledge, and construct understandings-based lab experiences. This school year, teachers and students were able to move back into the school building after two years of being displaced from the flood of 2016. According to Gautreau, the lab upgrade is greatly needed because students need equitable access to learning through lab experiences. Lake Elementary needs equipment such as measuring devices and probes and sensors for life, Earth, and physical sciences. With updated equipment, students will be able to collect data and conduct investigations, which helps students understand concepts and provides real-life information for evidence-based writing. The impact of receiving the grant will be felt throughout the K–8 school as these materials will be shared and checked out through Gautreau who wants to increase the number of inquiry and STEM labs.
ST. AMANT HIGH

Jessica Wilson wants to provide students at St. Amant High with the opportunity to make connections with and prepare for the world outside of school with hands-on explorations of biology concepts and principles. The school is currently working to implement a three-dimensional phenomena-based curriculum, which is designed to meet the rigors of the Next Generation Science Standards through problem-based learning, engineering, scientific investigations, math, and literacy connections with claim-evidence-reasoning assessments. In August 2016, after a prolonged rainfall, St. Amant High School and the majority of the surrounding community experienced catastrophic flooding. Any materials that touched the flood water had to be discarded. Since that day, the school has been tirelessly working to replace laboratory equipment, supplies, and classroom resources. According to Wilson, this grant will provide an opportunity to upgrade and purchase new laboratory equipment and supplies, which will improve teaching and increase students content knowledge by providing students with safe hands-on experiences that are relevant to their everyday lives and will strengthen efforts to teach the Next Generation Science Standards to their highest potential.
At the national level of the competition, Townsend, Gautreau and Wilson will each have a chance to win an additional $5,000 of support to attend the NSTA National Conference on Science Education in Boston, Massachusetts, April 2-5, 2020. The three grand prize winners and their principals will be honored at the Shell reception and Teachers Awards Gala, taking place during the conference.
To view the list of 2019 Shell Science Lab Regional Challenge Regional Winners and for more information about the Challenge, visit the competition web site.
Comments
comments